Achim W. Hoelzle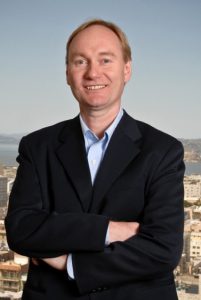 Achim W. Hoelzle is an attorney admitted in California and Germany and has over 20 years of experience representing companies on general corporate and intellectual property matters. Throughout his career, Achim has participated in venture capital investments and M&A transactions valued in excess of $4.5 billion. His clients benefit greatly from his vast network of contacts in the technology, venture capital, media, and life sciences industries in Europe and the U.S.
Achim currently serves as the co-chair of the Media & Entertainment Industry Group of the German American Business Association (GABA) and is a frequent guest speaker on German-American business and legal topics. Achim and his firm have been featured in Brand Eins Magazin, Bertelsmann Stiftung's Change Magazin, the San Francisco Recorder, and Business Angels Netzwerk Deutschland BANDquartal.
Prior to FeldbergPacific, Achim was a senior attorney in the business and technology group of the law firm Brobeck, Phleger & Harrison LLP in Palo Alto. He was previously with the international business practice group at Squire Patton Boggs (formerly Graham & James LLP) in San Francisco and Dusseldorf, where he represented leading European and US companies.
Achim received his law degree from the Albert-Ludwigs University Freiburg (Germany). He served between 1994 and 1995 as a Visiting Scholar in Residence at the University of California, Hastings College of the Law, San Francisco.
Other Attorneys (co-operating with FeldbergPacific*)
Ayako Onoda
Ayako Onoda is an attorney practicing law in the San Francisco Bay area for more than 20 years specializing in corporate and commercial transactions.  She has been representing public and private companies in mergers and acquisitions, corporate financing, corporate governance, strategic partnerships, technology joint ventures, equity investments, business formation and dissolution.  Ayako also works with domestic and international companies on all aspects of digital media issues, such as intellectual property licensing, marketing, privacy and PR concerns, including third party content vetting and clearance.
Ayako was a legal consultant for Apple, Inc. in the Worldwide Marketing Communications group and other global technology companies in Silicon Valley.  She was previously a senior attorney for Squire Patton Boggs (formerly Graham & James LLP) in San Francisco in the international business practice group. 
Ayako is a graduate of the University of San Francisco, School of Law and Barnard College at Columbia University, and is admitted to practice in California, New York and the District of Columbia.
* These attorneys are independent of FeldbergPacific and are not partners or employees.